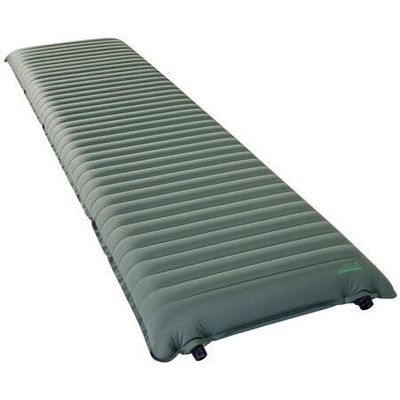 Thermarest NeoAir® Topo™ Luxe Regular Sleeping Mattress
Thermarest
£144.50
RRP £170.00
Elevating the NeoAir higher than ever before, the Topo Luxe sleeping pad offers supreme insulated comfort.For those familiar with our legendary NeoAir mattresses, the NeoAir Topo Luxe brings the line of sleeping pads to new heights. A whopping 4 inches (10 cm) thick, the Topo Luxe is our thickest backpacking NeoAir ever. The Topo Luxe packs down small before inflating for plush support and warmth thanks to our Triangular Core Matrix, the best warmth-to-weight construction for air pads. Available in several sizes, including a roomy regular wide, the Topo Luxe features the high-performance TwinLock valve with two dedicated valves for lightning-fast inflation or deflation. Like all Therm-a-Rest pads, the NeoAir Topo Luxe is made in market to ensure quality and minimize environmental impact. The pad includes a breath-saving pump sack, compact stuff sack and field repair kit.
Product Details:
Next-Level Comfort: Four inches (10 cm) of stable loft make the Topo Luxe the thickest NeoAir ever.
Stable Warmth: Patented Triangular Core Matrix™ utilizes two stacked layers of triangular baffles to create a stable surface while minimizing heat loss.
Compact: Insulated without the use of bulky fill materials to pack small.
TwinLock™ Valve: Utilizing two one-way valves, one for inflation and one for deflation, the TwinLock valve system makes setting up and breaking camp a breeze.
Multiple Sizes: Offering a range of sizes, including a spacious regular wide, allows you to pick a size that best suits your adventure needs.
Pump sack, stuff sack and repair kit included.
Specification:
Color Balsam
R-Value 3.7
Weight 0.65 kg
Width 51 cm
Length 183 cm
Height 10 cm
Thickness 10 cm
Packed dimension 24 cm x 14 cm
Top fabric type 50D polyester knit
Bottom fabric type 50D polyester
Pump sack, stuff sack and repair kit included
Material(s) Polyester, Polyurethane, Nylon
Made in Ireland
SKU: QSG-66-SL-2-1-2