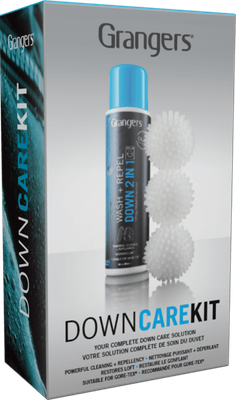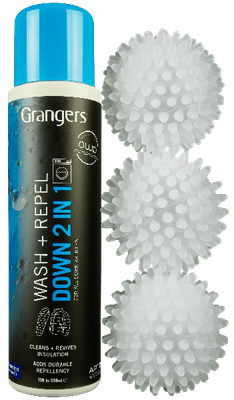 Grangers Down Care Kit
Grangers
£15.75
This kit encompasses all your down care needs.
FEATURES
Specially formulated to clean all down and down-filled articles
Maximises breathability
Powerful cleaning
Durable water-repellency
100% PCR and Ocean Waste Plastic (OWP) bottle
PFC-free
Bluesign® approved
DETAILS
This kit is was inspired by the desire to offer a complete down care solution. Combining Wash + Repel Down 2 in 1 to clean and protect all down articles with three dryer balls.

We understand that washing your down gear can be intimidating. When you've invested your money in a lovely jacket that keeps you warm and dry, yet in one wash you could reduce it to a clumpy disfigured mess – but taking care of your down is important. If you don't keep it clean and protected, then it won't perform as well, and this is why we invented our Down Care Kit, to take away that fear.
This kit includes:

Wash + Repel Down 2 in 1, our unique 2-in-1 product which cleans and proofs in one wash cycle, meaning less impact on the environment and less time washing so you can get back outside sooner. This 2-in-1 formulations takes care of your down and synthetic down with powerful cleaning and superior proofing.

3 dryer balls, which are reusable (for up to 1000 washes) and perfect for preventing clumping and ensuring that down articles restore their loft. Previously, people have used tennis balls, but these can actually leak colour onto the garment and crush the down. We recommend these dryer balls as they gently restore loft, meaning your down will be back to maximum performance.
HOW TO USE
•Use 50ml capful per large item, or two smaller items. Use half a cap if handwashing.
•Pour product directly into the detergent drawer of your Washing Machine.
•Wash on a full cycle at 30°C/86°F or according to care label instructions.
•Once washed, check down is evenly distributed, add dryer balls and periodically check throughout drying cycle.
•Once completely dry, you're good to go!
SKU: 10000-94