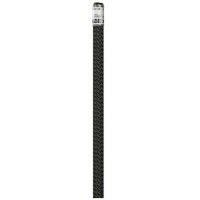 Beal 11mm Apollo Dynamic (Black)
Beal
£60.00
11mm Dry Cover Rope
Dynamic ropes cushion impacts and must be used during certain procedures to absorb the energy of possible falls.
KEY FEATURES
This is the perfect rope for climbing in complete serenity:
Great reserves of security in intensive use.
Exceptional edge-resistance.
A sheath capable of withstanding the constraints of Big Wall climbing.
USE
Traditional and Big Wall climbing.
Toughest of the tough, this traditional, virtually indestructible rope is capable of surviving the demands of outdoor centres and big walls.
Specifications:
Breaking Load: 2300 daN(kg)
Impact force: 7.8 kN
Weight:75g per metre
Material: Polyamid
Dynamic Elongation: 32%
Elongation 80kg: 6%
Number of UIAA falls: 15
Sheath slippage: 0 mm
Other lengths available on request, please contact us
Conformance: EN892
SKU: BC11A.20C.BK