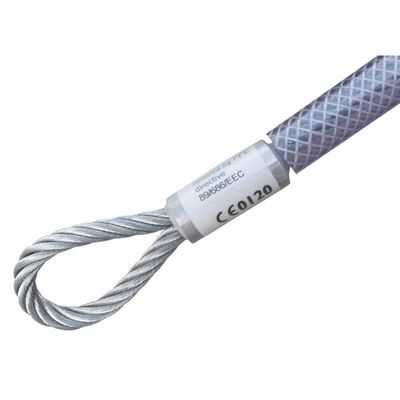 Lyon 7mm Galvanised Steel Anchor Strop - Soft Eye
Lyon
£21.50
This item is not always available on next day delivery.

Soft Eye Wire Anchor Strops are manufactured from the same 7mm galvanised steel wire as our standard version, but have no thimble fitted into the swaged connection eyes.
These 'soft' eyes without thimbles enable the strop to be threaded through smaller openings, useful where rigging options are limited.
All our Wire Anchor Strops are CE marked and certified to EN795 B and also meet PD CEN/TS 16415:2013 for two person rescue loads.
Galvanised steel wire and aluminium alloy ferrules
'Soft' eye without thimble enables strop to be threaded through smaller openings
Fitted transparent polyester reinforced PVC protective sleeve
Available in a range of standard lengths, bespoke lengths to special order
Serialisation:
This service is available on pre-delivery strops only, with a maximum of 20 characters, please contact us for pricing.
Available in 6 lengths:
0.50m - 260g
0.75m - 390g
1.00m - 434g
1.50m - 620g
2.00m - 804g
3.00m - 1160g
SKU: LO 7 15 SOFT