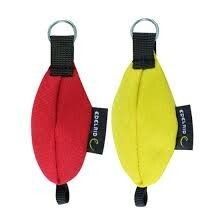 Edelrid Throw Bag
Edelrid
£16.00
Made from an extremely robust material, Edelrid throw bags provide great throw qualities with a long lifespan.
The ring is fixed securely to the bag and the bottom loop provides an attachment point for karabiners and connectors.
In combination with a lanyard the Edelrid Throw Bag is a practical help to launch the insertion of the rope from below.
.

Conformance: Non PPE
SKU: 88968-250-200