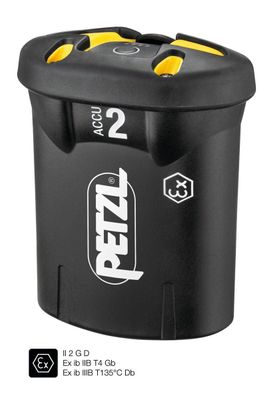 Petzl ACCU 2 DUO Z1
Petzl
£90.00
This item is not always held in stock, so please allow a few days before delivery.
Rechargeable battery for the DUO Z1 headlamp, usable in ATEX
Very high capacity rechargeable battery, 23.68 Wh, designed for the DUO Z1 headlamp.
Durable and ATEX zone 1/21 (II 2 GD Ex ib IIB T4 Gb IIIB T135° C Db) certified, it also features quick connection to the headlamp and an energy gauge for monitoring the battery's charge level.

Detailed description
Lithium-Ion technology offers high capacity (6400 mAh, 3.7 V, 23.68 Wh)
Energy gauge allows monitoring of battery's charge level
Quick connection system for instant battery installation or removal
Rechargeable with the specially designed wall charger
Waterproof (IP67)
ATEX zone 1/21 (II 2 GD Ex ib IIB T4 Gb IIIB T135° C Db) certified product
Specifications
Weight: 168 g
Recharge time: 8 h
Number of charging cycles: 300
Watertightness: IP67 (waterproof to -1 meter for 30 minutes in fresh water)
Certifications: CE, II 2 G Ex ib IIB T4 Gb, II 2 D Ex ib IIIB T135° C Db, room temperature: -20° C to +40° C
Guarantee: One year or 300 charging cycles
SKU: E80001