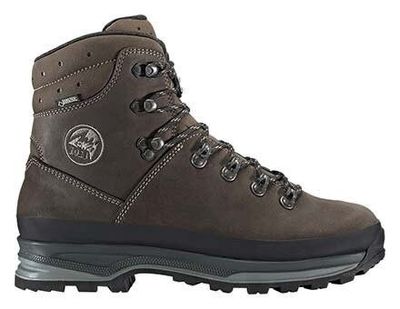 Lowa Ranger lll GTX
Lowa
£265.00
Recommended For: Hiking , Trekking
This classic trekking boot features embossed waxed nubuck uppers for a rugged heritage look. With a one-piece design, and multiple comfort features such as the anatomically designed C4 Tongue, it's perfect for many miles of on- and off-trail hard use. Durably waterproof/breathable.
Your preferred outdoor escape is a classic hut-to-hike alpine hike or a demanding tour in the highlands and hills? Then you're spot-on with this classic trekking boot with its strong 2.2 mm nubuck leather upper. A wrap-around rubber rand protects the leather from damage. The waterproof GORE-TEX lining provides optimal temperature regulation, and you'll experience great fit thanks to the LOWA "X-Lacing" system that minimises tongue slippage. The detailed midsole construction increases stability and comfort, whilst the tread profile of the Vibram® outsole "Natural" optimises support. An ideal roll-through is encouraged with a special lug design.



Independently adjustable lacing zones, one on the forefoot and one on the upper, for an improved individualised fit and better adjustments for personal comfort and different foot anatomy.

Anatomically shaped tongue for improved flex and comfort. Combined with asymmetric padding, it helps avoid pressure points and substantially enhances comfort.


Additional sizes are available for this model. Cemented models (mountaineering, trekking) have a different sole.


Highly breathable, durably waterproof lining material. Keeps feet pleasantly dry and offers optimised climate comfort for a broad range of outdoor activities.


The use of large pieces to form the upper eliminates the need for stitches, creating a high degree of wearing comfort, and prevents possible friction or pressure points.


This product can be resoled by a specialist. They're designed in a way where the upper of the shoe is retained, and a new sole can be added to it.


To ensure that the laces run flexibly and smoothly through the eyelets, small roller balls minimise friction in the metal loops and provide easy lacing.


Has a high degree of rigidity, offering good support even when subjected to stress.


Vibram® has been one of the leading brands of high-quality soles for many years, offering a variety of rubber blends and sole units to cover each boots specific end use requirements.


Patented LOWA technology holds the tongue in place both vertically and horizontally. This prevents slippage, reducing pressure points or blisters. The X-Lacing ensures that the pressure of the laces is transferred not just to the hooks but to the tongue as well.
SKU: 10000-132-2